Vacation. It's the inoculation for fear. What is it about vacations that makes people feel adventurous and invincible?  Things my family would never consider at home have an allure when we're away.  Without even a consult, the hubbs is automatically signing waivers and handing over cash for us to try something crazy and we all cheer him on! What's wrong with us?
I didn't take a lot of time to join in the research on our recent vacay to Costa Rica. Actually, I took zero time to help plan as it was May and we've previously discussed the nightmare that month is for moms (see the previous post for details).  So, for once, I just decided to be surprised.
SURPRISE ONE: WHITEWATER RAFTING
Okay, so why do people do this?  It's like saying "Hey, wanna risk your life and jump in this washing machine of death and hope you make your way out after the spin cycle?" First of all, the tumultuous river water was FREEZING!  Then, in looking around, I noticed everyone was a LOT younger than the hubbs and I. This is not a confidence builder. Luckily, I spotted the nice Indian family from Chicago we met on the van ride over.  The mom looked insanely nervous, as did their two kids, who were on the verge of tears.  It's obvious this was totally the dad's idea and he, like us, believes you can't die on vacation.  This scene immediately made me feel fearless for some crazy reason.  All of a sudden I'm thinking: "Let's do this thing!" Gustavo, our raft guide, was incredibly friendly and made the trip feel fun and practically safe.  When we weren't paddling for our lives I noticed the river could be serene and beautiful. It was a breathtaking surreal mix of lush greens with the cleanest air I've ever breathed.  Exotic birds were everywhere and there was a soundtrack of nature I'd never heard.  As the boys jumped out of the raft to float down the river at the adventure's end, I felt like we had peeked into an exotic private world.  Thumbs up for surprise one. Bonus: We were still alive!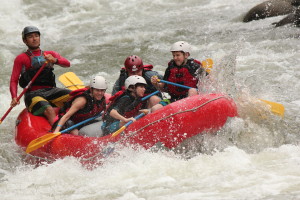 SURPRISE TWO: FOREST NIGHT TOUR
We moved on to Monteverde, which is a lush jungle-like cloud forest reserve of wild untouched land that's home to stuff you mostly just see in books.  Okay, so that part sounds cool, right?  Now, how 'bout grabbing a flashlight and trekking through it IN SEARCH OF CREATURES AT NIGHT!? Yeah, so this is totally where Blair Witch Project and Pretador collide with our vacation.  While nothing about this makes sense I was absolutely all about it.  Yes, pit vipers can kill you.  Oh and look…there's one right there.  (Not scared.)  I was just wondering why our path was called the Tarantula trail when our very sweet guide, Christian, pointed a HUGE one out to us.  (Interesting, but still not scared.) All sorts of scary sounds oozing from the darkness begin to engulf us as we walked through the area for the TWO HOUR TOUR OF DARKNESS AND DEATH. There was an olingo climbing above us in the trees and insects that look like leaves.  Everything had such a surreal factor that I'm convinced that's why I wasn't scared.  It was all so UNreal that my mind couldn't process that it WAS real.  This was a truly once in a lifetime adventure with two thumbs up.  Bonus: No deadly bites! Double bonus: The tween was scared and mom wasn't. Mark that one down.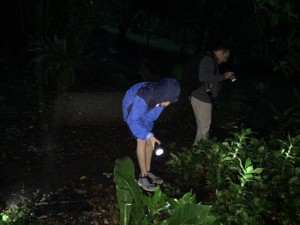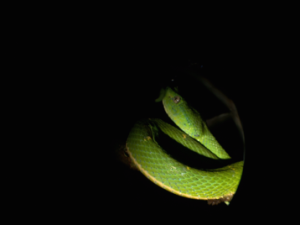 SURPRISE THREE: Animal encounter and volunteering at PROYECTO ASIS
An interesting and beautiful drive away from the cloud forest where we were staying brought us to Proyecto Asis – a wildlife rescue center where the hubbs had planned a tour and volunteer session for the fam.  This was a great opportunity for us to get a hands on education about the unique wildlife of Costa Rica.  Our guide Carlos, and really everyone we met, had a deep love and appreciation for the land and it's wildlife. We met monkeys, pigs, birds, snakes, caymans, an ocelot and everything in between.  After being introduced to each of the wild residents there we enjoyed fresh coffee and fruit before preparing and serving lunch to all the animals.  It was a blast!  Well, everything except the tween sitting on a ledge with legs dangling and a CAYMAN sunning THREE FEET from him. He was surprised by my near heart attack for some reason.  Besides that scare this was a human opposable thumb UP! Bonus: The tween's glasses were stolen by a monkey who proceeded to WEAR THEM very proudly.  It was perfection.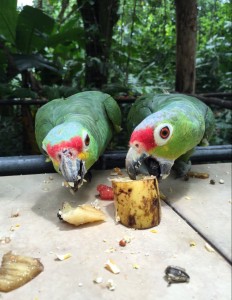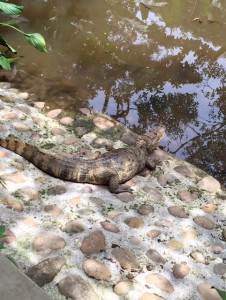 SURPRISE FOUR: EXTREME ZIP- LINING AND HANGING BRIDGES
Zip lining is a hallmark of Costa Rica, so if you're gonna do it ya might as well go BIG or go home.  We did a THREE HOUR, THIRTEEN zip line tour of the longest and highest zip lines in all of Costa Rica.  IT. WAS. AMAZING.  The longest one was over a kilometer in length and the heights were WELL ABOVE the forest canopy.  It was like sailing over a sea of giant broccoli.  On the last one the boys went "Superman" style and were completely suspended in a horizontal position.  It was such an adrenaline rush I'd nearly forgotten that the tween went missing around the second zip line as he went ahead with the guides  INSTEAD OF HIS FAMILY.  Are you noticing a pattern here?  Yes.  He will end up killing his mama one day soon.
The next day we spent several hours on a hiking tour of eight "hanging bridges" which meant we were dangling hundreds of feet above jungle floors in search of wildlife. This was another breathtaking adventure with vistas we will never forget.  Big thumbs up on both of these. Bonus: I even looked down a couple of times!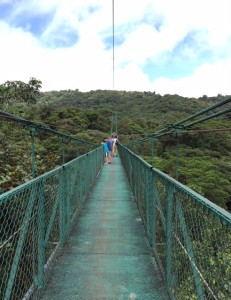 MORE SURPRISES: UNPLANNED CRAZY
Crazy follows us…I've told you this.  And crazy doesn't TAKE a vacation just because we're ON vacation.
One episode was the tween running ahead on a waterfall hike and me finally catching up and looking on from afar as some dude plucked him from rushing waters as the kid was pinned on rocks trapped in a strong current.  I'm thinking: "Did somebody just save my kid's life? Who was that?" In all the mayhem we couldn't find the guy afterwards.  Yeah.  That happened.
Then there was the bizarre yoga session in a gorgeous outdoor yoga studio.  I was so excited until…our instructor knew zero English and was so stuffy from allergies she was completely intelligible.  I don't think SHE could understand what she was saying. She announced she was doing a meditative chanting class.  I woke up at 6 am to do chanting!??? And how do you chant what you can't understand!?   It was beyond ridiculous. The one other guest and I could not make eye contact because we were already giggling to ourselves. This made my second yoga attempt at another location even more anticipated.  I was excited, settled and set up – taking deep breaths – feeling relaxed.  Then a dude walks in with video equipment.  "Señora we tape today for resort video.  I try and not get your face." Seriously? My peace just cracked like an egg.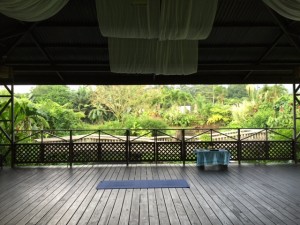 It's hard to forget the unnamed sickness the hubbs contracted which kept him nearly bedridden for FOUR DAYS.  He mostly just moaned while sweaty and delirious for hours on end. He'd try and join us for activities during the day as much as he could, then at night he was just a mess. He looked near death but refused a doctor visit.   We had to just vacay without him, but we did do night time vigils to make sure he was breathing. We're not savages!
Then there was our bumpy two – turned four – hour drive with the gas gauge teetering on reaaaaaaally low.  Car sputtering.  Windows down to conserve fuel.  Nervous silence. Nothing and no one in sight. Family praying for a miracle.  Finally, I see a man standing out on the road and we pull over!! "Hola Señor – necessitamos gasolina." He points down the road to his friend's house only two hundred meters away explaining how lucky we were since this is the ONLY gasoline between where we were and where we were going.  What are the odds the man would be standing there as we passed to tell us where the ONLY gas would be?  Our tank audibly exhaled as we removed the cap and our lovely new friends laughed with us on the side of a very dusty, rocky road.
Praise God for not ever taking vacations from watching over our crazy selves!  Miracles still happen.  And you notice them more when they come in response to the crazy.
Another miracle is that we made it home alive.  Our daring adventures are just memories now and we're safely on the couch recuperating and recounting the fun.  Let's here it for summertime fun!  And living to tell about it.