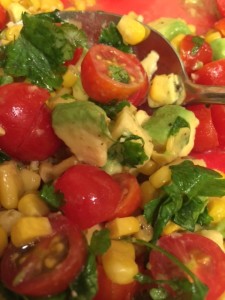 As the ball drops on New Years Eve one thing is for sure – most people have committed to eating healthier in the new year.  Many folks fall off the wagon by January's end, but whether or not you're sticking to your guns this is a super yum recipe that is easy to make and serves as a great base for a larger meal.
You can use this recipe as a delish side dish, healthy snack or as a base for grilled chicken, fish or any protein to make a super healthy meal with flavor that's off the hook.  It literally only takes minutes.
Here's what you'll need for the salad:
1 pint grape tomatoes
1 ripe avocado
2 ears fresh corn (I used canned corn 'cause I was in a rush)
handful of chopped fresh cilantro
Here's what you'll need for the dressing:
juice of one lime
3 tbsp olive oil
1 tbsp honey
sea salt and fresh ground pepper
garlic clove
dash of cayenne pepper
Grill the corn over medium heat for 10 minutes. Cut the corn off the cob and set aside to cool  (I used canned corn because it was too late for grilling.  If you go this route, add a tbsp of olive oil to a pan, sautee the corn and add a couple dashes of chipotle seasoning.)
Prepare the corn
Half the tomatoes, cut the avocado and cilantro.
Mix dressing ingredients
YOU'RE DONE!  Or be creative and add other stuff – romaine, broccoli, asparagus…whatever!!
This is one of those recipes that calls for little effort but yields big flavor.   Let me know what you think of it – and post a pic below!
HAPPY EATING!